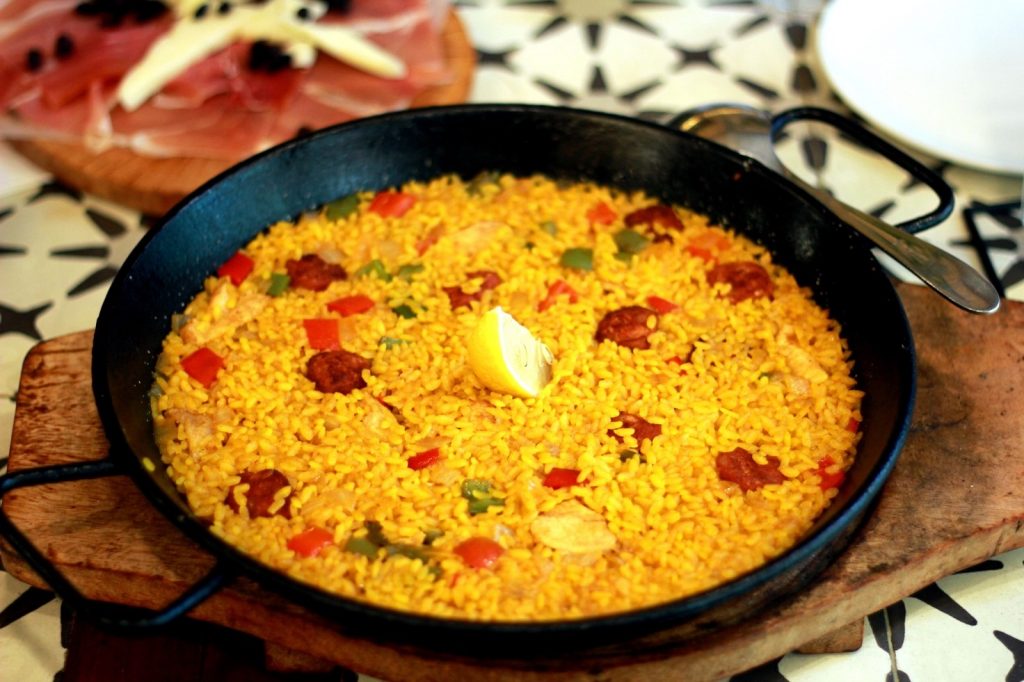 Chicken Paella
The super-easy, super-healthy, super-smiley recipe for the new fresh year
Indications:
Serves: 2
Preparation time: 10 minutes
Cooking time: 50 minutes
Difficulty: Easy (single approved!)
Ingredients:
• ¼ teaspoon saffron threads
• 3 teaspoons olive oil
• 7 oz (about 200 g) boneless, skinless chicken breasts, cut into bite-sized pieces
• Sea salt and ground black pepper
• ½ small brown onion, diced
• 1 garlic clove, crushed
• 2 teaspoons sweet paprika
• 1 ¼ cups salt-reduced vegetable stock
• 4 ¼ oz (about 114 g) brown rice
• ½ medium red bell pepper, seeds removed and sliced
• 5 oz (about 142g) tinned crushed tomatoes
• 1 ¾ oz (about 54 g) frozen peas
• 2 teaspoons chopped fresh parsley
• 1 tablespoon pine nuts and lemon wedges, to serve

How to:
Place the saffron threads in a small bowl with 2 teaspoons of boiling water and set aside. Heat half of the oil in a large non-stick fry pan over medium heat. Add the chicken and cook for 5-6 minutes or until browned. Transfer to a heatproof bowl and set aside to rest. Season with salt and pepper, if desired.
Heat the remaining oil in the pan over medium heat. Add the onion and cook for 3-4 minutes or until soft and translucent. Add the garlic and cook for 1 minute, stirring frequently. Add paprika and cook for a further 2 minutes, stirring frequently.
Return the chicken to the pan, Add ½ cup of the stock and reduce the heat to medium-low. Simmer for 10 minutes or until almost all the liquid has been absorbed, stirring occasionally.
Add the peas and the remaining stock and simmer for further 5-8 minutes until the stock has been absorbed and the rice is tender. If the stock is all used and the rice is not ready, just add ½ cup of hot water at a time until all the rice is completely cooked. Stir through the parsley and pine nuts. Season with salt and black pepper, if desired.
To serve, place the chicken paella in two serving bowls. Serve with lemon wedges on the side.
Fanny Trivigno
Source:
Itsines K, (2016). "The Bikini Body: 28 -days healthy, eating & lifestyle guide", St.Martin's Press, 175 fifth avenue, New York (NY)