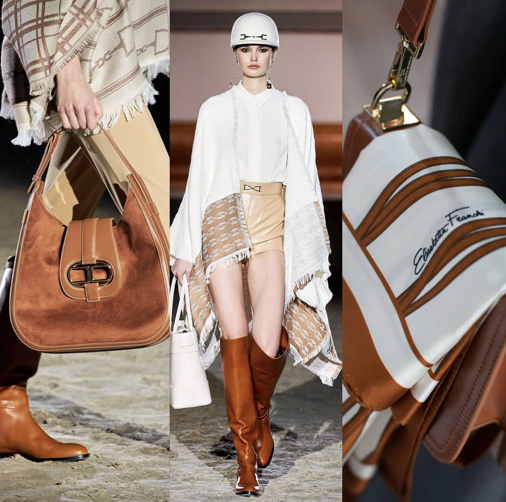 Elisabetta Franchi, il F/W 2021-2022 in streaming for Milan Fashion Week
As managed by Giorgio Armani few months ago, also Elisabetta Franchi debuted a Fall-Winter 2021-2022 collection in streaming on small screen.
The catwalk set up last Sunday, 6 p.m. Milan time. In the show preceding days, many enthralling sneak peeks have been posted on the designer social media and on the official brand page.
Starting from the classical Franchi elegance, the main themes of the collection represented a double-side environment where a sober moderation, essential and traditional in the cuts, is tempered by an adventurous spirit. The Franchi girl is, de facto, an elegant Amazonian beauty: technical, chic, and sophisticated.
From the first moments of streaming, live on discovery+, the official brand page and of course, on the National Chamber of Italian Fashion (CNMI), the season demonstrated a serious sense of transmutation: not merely the women and the society but the women IN the society. The recurrent horseman theme is a thought-provoking symbol of this metamorphosis. Let's think about, for example, the linguistic surroundings around the "caballero" theme: cavalryman, gentleman, chevalier, and even horseman.
All terms that seem to forget about the direct action on women in and out responsibility and obligations; as if women could not be immediately connected with feelings such as courage, audacity, determination, and heroism.
The Maison did not bring to bear these misconceptions. The items, in fact, represent a lively spirit of adventure, an immediate decision towards ventures of life. In practical terms, the collection displays an assortment of clean cuts and nude tones such as: toasted almond, honey peach and rose cloud. But also, mainly for accessories, potter's clay, sugar almond and, marsala. Additionally some "evergreen" colors were present in the F/W collection 2021-2022, as a reminder of the brand personality; milk white, cream, and Spanish vanilla. All these elements contributed to the iconography of luxury and priceless stylishness typical of the Italian brand.
Among the catwalk exits, it was possible to see classical coats with well displayed, coordinated buttons, geometrical cape-coats, embodied soft-layered dresses, cardigans in tweed and equestrian skinny trousers. As for the upper-body, the bluse cuts remind a little of the Victorian/ ancien regime aristocracy allure. As for the corresponding and wise use of accessories, the Maison proposes coordinated jockey's hats, leather boots and wide totes, in order to dispose of the saddler's shop particularity together with the tasteful sense of craftmanship design.
Fanny Trivigno
Sources:
www.wondernetmag.com/2021/02/28/elisabetta-franchi-sfilata-fw21-22/;
www.vogue.it/moda/article/elisabetta-franchi-2021-sfilata-fall-winter-diretta-streaming%3famp;
tg24.sky.it/spettacolo/2021/03/01/sfilata-elisabetta-franchi-milano-fashion-week-foto/amp;
https://runwaymagazines.com/elisabetta-franchi-fall-2021-2022/;