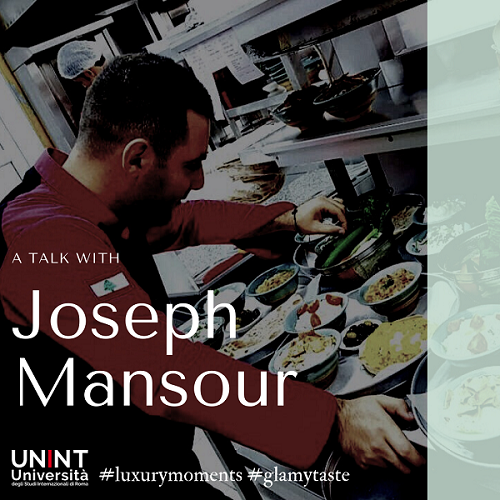 A TALK WITH …
CHEF JOSEPH MANSOUR ABOUT LEBANESE CUISINE
A talk with Joseph Mansour, a Lebanese Chef from the Bekaa, Rasbaalbeck Town, will reveal why Lebanese food is the most popular one in the Middle Eastern cuisines and will tell the secrets for its success around the World with the well-known Mezzé menu, a variety of hot and cold dishes from forty up to sixty small ones presented as either appetizers or as a meal itself where we can find the renowned Hummus, a simple recipe of chickpea sauce that conquers all varieties of food cultures around the world.
His passion for cuisine started in 2007 when Chef Joseph was working in hotel management. He opened more than 10 five stars Lebanese restaurants in different states between Lebanon, Dubai, Jordan, Egypt and right now he is in Qatar for a new one there. All those wonderful experiences in different countries gave him new challenges, while choosing ingredients and designing new menus based on the seasonal availability of food items. His ability is to upgrade and Oversees a restaurant's kitchen creating and presenting new innovating plates with the respect of Lebanese ingredients that focuses on herbs, spices, and fresh ones. Mint, parsley, oregano, garlic, allspice, nutmeg, and cinnamon are the most common seasonings. Bread is served with almost every meal, most often as a flat bread called Arabic bread.
Chef Joseph Mansour deep desire is to start guiding the Lebanese specialities to an upper level focusing on a fusion and gourmet dishes, he loves innovation and adds some touches so each dish can become the plate to serve to the grandest and most expert tastier. His style is unique, aims to inspire guests to come back again and again to see what is new in his restaurant. In love with innovations in Lebanese cuisine while adding some touches to let each dish become the grandest and most beautiful and tastier one.
Maria Christina Rigano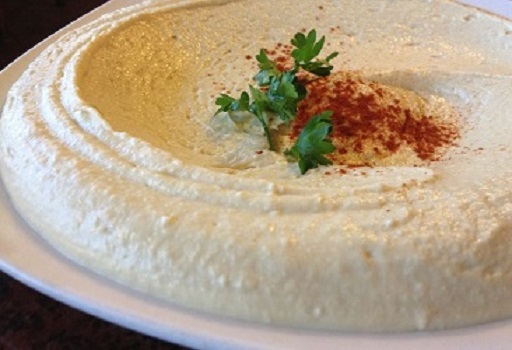 Hummus, a simple and delicious recipe.
Authentic hummus is easy to make it can be a great appetizer for almost any occasion or a side dish with meat. Hummus has a garbanzo bean base with tahini, olive oil and some simple spices and herbs.
Ingredients
Tahina or sesame paste:  1/4 cup
Salt
Olive oil for the top
Garlic (optional)
Lemon juice: 1 or 2 lemons
Afilla cress baby chick pease leaves
Cooked chickpeas 500 gr.
Water.
Instructions
Add tahini paste, lemon juice, two tablespoons water, garlic (if using) and salt to a food processor or blender and puree until smooth, 30 to 60 seconds. Rinse, drain, and remove any shells from chickpeas and add to the food processor. Blend for 3 minutes. If mixture is too thick, add 1 or 2 tablespoons cold water to thin it out to desired consistency.
Taste the mixture and add more salt or lemon to taste to suit personal preference.
Transfer to a serving bowl and drizzle with olive oil. Optional garnishes include chopped parsley, paprika or cumin. Store in refrigerator before eating for at least half hour.
Maria Christina Rigano