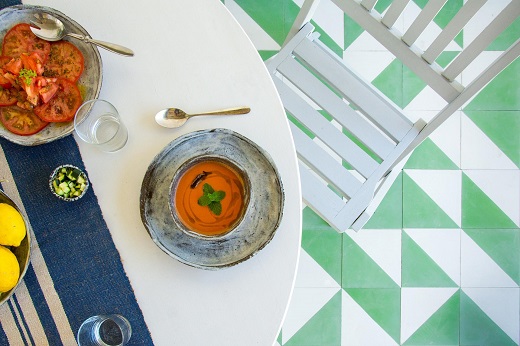 Let's talk about Gazpacho: the iced cold blend to survive Summer
When no cooking is necessary, we are already into it.
This summer edition of #glamytaste, our subsection of Food and Beverage, will focus on the, apparently, straightforward preparation of gazpacho, the chill soup originally from Spain.
The dish, popular in Andalusia, seems to have a very peculiar story: in fact it was already described in Greek and Roman literature, although two of the main ingredients of the modern version, tomatoes and green peppers, were brought to Spain from the New World only in the 16th century.
An excellent gazpacho should be served ice-cold, so after blending, cooling down for at least an hour. As garnishes, a few suggestions: chop up some fresh tomatoes, English cucumbers, and red peppers for texture or toss on some croutons for crunch or pickled red onions for bite. Used also as a starter, gazpacho could be served in shot glasses with just a drizzle of extra-virgin olive oil and a fresh grinding of black pepper.
Here, our fashionable alternative, 4 servings.
Ingredients
½ English hothouse cucumber, peeled, seeded
½ large red bell pepper, stemmed, seeded
2 lb. very ripe red tomatoes, preferably heirloom, cut into ½" wedges, 3 Tbsp. seeds reserved
½ large shallot, chopped
1 garlic clove, finely grated
2 Tbsp. (or more) sherry or red wine vinegar
Flaky sea salt
3 Tbsp. olive oil, plus more for drizzling
Quartered cherry tomatoes, chopped chives, and grilled or toasted country-style bread (for serving)
Preparation
Cut half cucumbers into ¼" pieces and set aside for serving; chop remaining ones and cut also one quarter of the bell pepper into ¼"; after that, chop remaining bell pepper and add to a bowl with cucumber. Add tomatoes to bowl and toss with shallot, garlic, 2 Tbsp. vinegar, and 1 Tbsp. salt. Let stand for 30 minutes at room temperature to let flavors meld.
Transfer tomato mixture along with any accumulated juices to a blender. Add 3 Tbsp. oil and purée on medium speed until smooth; season with salt and vinegar, if desired. Strain through a coarse-mesh sieve into a large bowl or pitcher and chill until cool, about 1 hour.
Divide gazpacho among bowls. Top with cherry tomatoes, chives, reserved cucumber and red pepper pieces, and tomato seeds; drizzle with oil and season with salt.
Fanny Trivigno
Sources:
https://www.bonappetit.com/recipe/summer-gazpacho/amp
https://www.latimes.com/archives/la-xpm-2003-aug-13-fo-gazpa13-story.html