The Healthy vibe: 4 Recipes that everyone could have fun replicating without giving up on wellness
Have you ever felt like… if taste is good probably the ingredients will not be that healthy?
Here an entire day, to spend among good food, fun, and healthy recipes that could be an incredible way to start the Summer and kick off bad habits.
Try to believe.
OATS PORRIDGE WITH BLUEBERRIES, KIWI AND CHIA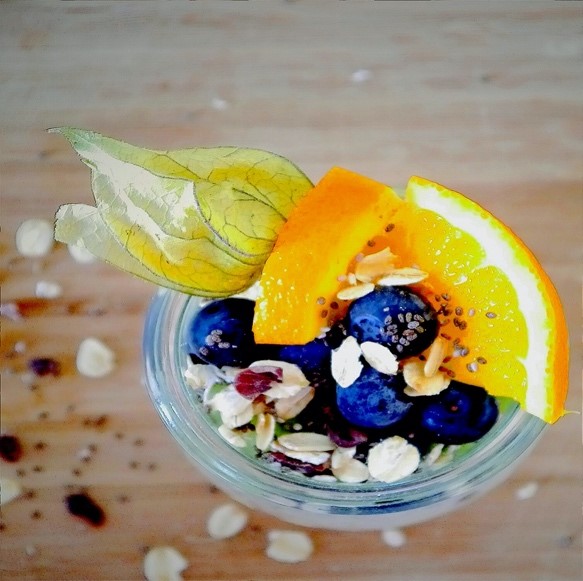 Serve 1
Prep Time 5 minutes
Cooking Time 5 minutes
Difficulty Easy
Ingredients:
½ teaspoon pure vanilla extract
½ teaspoon cup low-fat milk
85 gr. Oats
85 gr. low-fat plain yogurt
2 teaspoons of chia
1 medium kiwi (sliced)
60 gr. fresh blueberries
In a small saucepan, bring ½ of water, vanilla and half of the milk to the boil over high heat. Add the oats and reduce the heat to low. Simmer for 5 minutes or until thickened.
Meanwhile, place the yogurt and the chia in a small bowl and mix until combined.
To serve, pour the oats porridge into a bigger bowl. Top with the remaining milk, sliced kiwi and blueberries.

BLACK BEANS, TOMATOES, ZUCCHINI AND CORN QUESADILLA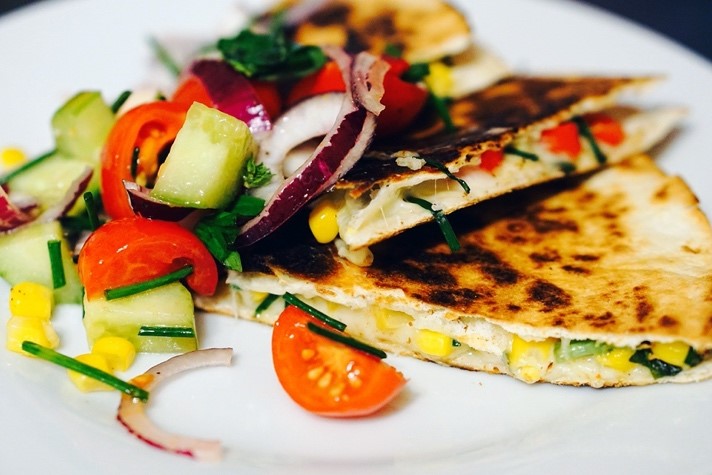 Serves 1
Prep Time 10 minutes
Cooking Time 5 minutes
Difficulty easy
Ingredients:
60 gr. black beans, drained and rinsed
½ medium tomato, diced
2 tablespoon tinned corn kernels, drained and rinsed
60 gr. of roasted green zucchini
1 whole wheat wrap
1 small handful chopped onion
30 gr. reduced-fat cheddar cheese (optional)
Preheat a sandwich press.
Place the black beans, tomato and corn in a small bowl and mix until well combined.
Spread the pre-roasted green zucchini over one half of the wrap and lay on the sandwich press. Top with the chopped onion, black beans mixture and cheese. Fold in half to enclose the filling and gently press down the sandwich press lid.
Toast for 4-5 minutes or until the wrap is crisp or golden.
Remove the quesadilla from the sandwich press and transfer to a serving plate. Serve.
BANANA TOASTS WITH CINNAMON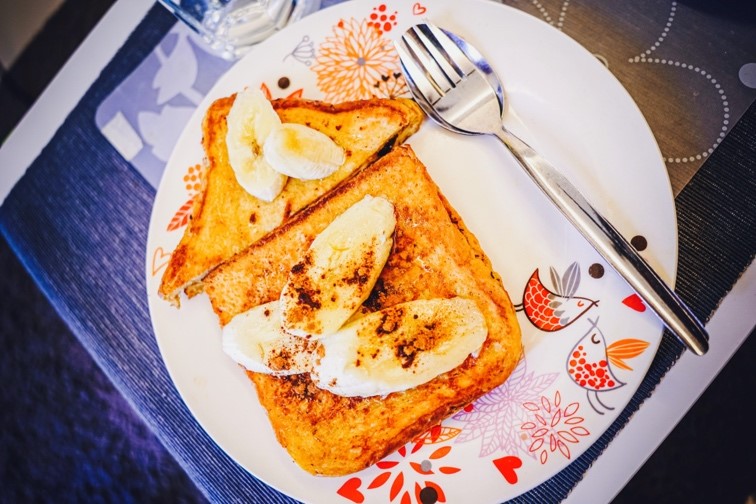 Serves 1
Prep Time 5 minutes
Cooking Time 2 minutes
Difficulty Easy
Ingredients:
2 slices whole wheat bread
½ medium banana sliced
½ teaspoon of cinnamon
Whipped peanut butter (optional)
Toast the bread to your liking.
Whip the peanut butter in a small bowl first and after with a hand-held beater until it is fluffy.
To serve, spread the whipped peanut butter over the toast top with sliced banana and cinnamon.
NOODLES SOUP WITH TOMATOES, SPINACHES, CARROTS and PORK
Serves 1
Prep time 15 minutes (and plus 10 minutes soaking time)
Cooking Time 10 minutes
Difficulty Easy
Ingredients:
90 gr. rice vermicelli noodles
Oil spray
½ garlic clove, crushed
½ fresh ginger, peeled
85gr. ground pork
¼ Lebanese cucumber, sliced
¼ carrot, granted or blended
1 tablespoon chopped fresh cilantro
1 small handful baby spinaches
½ teaspoon salt-reduced tamari or soy sauce
2 teaspoons lime juice
½ teaspoon honey
Place the noodles in a heatproof bowl and cover with boiling water. Leave for 10 minutes, then loosen the noodles with a fork. Drain and refresh under cool running water. Drain well and set aside to cool slightly. When cool enough to handle, cut into shorter lengths.
Heat a non-stick fry pan over medium heat and spray lightly with oil spray. Add the garlic, ginger and ground pork and cook for 5-7 minutes or until the pork is browned, stirring frequently.
Add noodles, cucumber, baby spinaches, blended carrots and cilantro to the bowl containing the pork and stir gently to combine.
Whisk the tamari sauce, the lime and honey together in a small bowl. Pour over the pork and noodles mixture and toss gently to combine. Serve.
Fanny Trivigno
Sources:
K. Itsines, The Bikini Body-28 day: Healthy, Energy and Lifestyle Guide, St.Martin's Press, NY, 2016