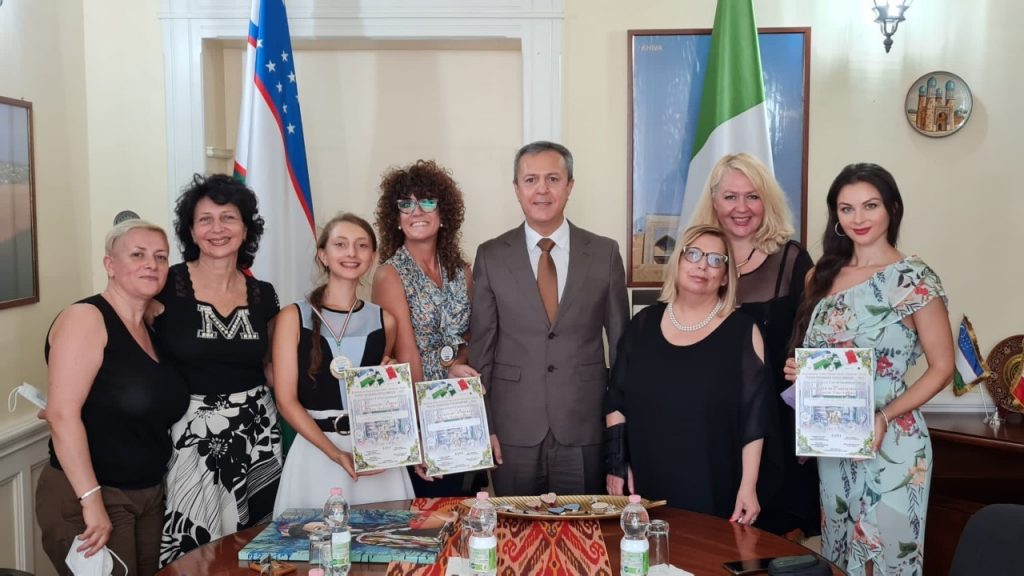 Just few days ago, an entire day dedicated to creativity and innovation took place at Embassy of Uzbekistan in Rome- in occurrence of the celebrations for the International Contest of Arts between Uzbekistan and Italy.
This valuable event has been observed as the commemoration of the first thirty years of Independence in Uzbekistan. The symbolic date is celebrated on September 1st.
The event has been organized by the association Verbumlandiart and the personal touch of Aida Abdullaeva, remarkable artist from Uzbekistan and founder of "Progetto Angeli", an illustrious international association which unifies talented artists with the aim of launching Festivals, exhibitions and holistic projects.
Among the jury from the event at the Embassy, there was the Ambassador of Uzbekistan in Italy, Otabek Akbarov, the consul Munira Nizamova, the artist Aida Abdullaeva, the artist Miguel Angel Acosta Lara and the Verbumlandiart president Regina Resta; additionally the panel has been assisted by the professor and lawyer Ms. Marilisa Palazzone and the professor Claudia Piccinno.
After a meticulous analysis of the gathered pieces of art, the panel evaluated on the different technical aspects of the paintings such as: methodology, style, colors, harmony, saturation and thematic substance; in the end four final artists have been selected among young talents (aged 7-14) and seven adults but only one winner for category has been awarded.
For young talents- primary and secondary school- the chosen winner has been recognized in Eleonora Santospago from Chieti. For drawing category one valuable reward has been assigned to Alessia Roubing and Melissa Fortini from Castelmaggiore, Bologna. Among the adult winners, the prize has been assigned to Emanuela Loscanna, together with some additional recognition to Fernando d'Ospina, Madia Ingrosso, Stefania Siani, Teri Voltini, Daniela Gilardoni.
Ms. Emanuela Loscanna, the adult winner, created a painting depicting a young woman from Uzbekistan in traditional clothes, holding together the elegance of the Uzbek population and its manifestation of colors.
Among the talented painters, there was also a room for a designer Melissa Caldari, known as Melissa Mil, who exhibited a collection of earring themed around the Uzbek traditional wood crafts, fantasies and colors.
Fanny Trivigno
Sources:
Gisella Peana- Press Release "Un ponte d'Arte tra l'Italia e l'Uzbekistan", September 2021