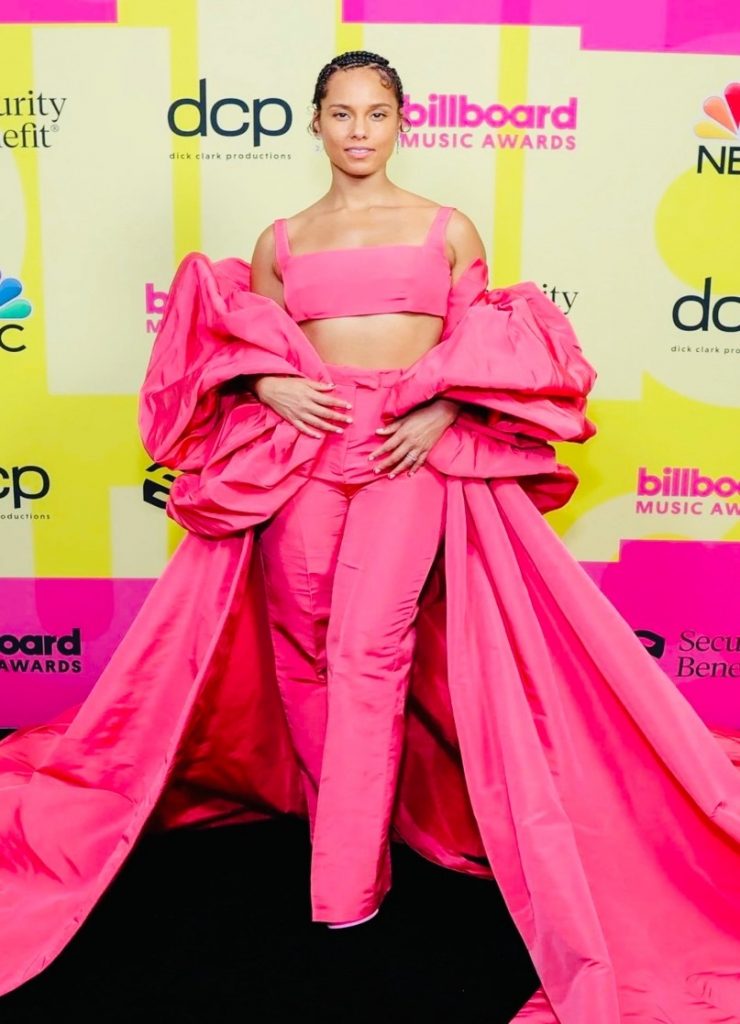 Billboard Music Awards 2021 between Good music and Fashion Bits
Just two days ago, LA hosted the 2021 Billboard Music Awards: a real celebrity catwalk between Summer inspiration and bright looks. The event has been the perfect scenario for American celebrities in order to restore the celebrative atmosphere in California, after almost two years of postponements and delays.
If the show is on the air, the invited celebrities did know take the occasion for granted; the event itself has been not only one of the first music ceremony to be back on live mode, but also one of the first fashion catwalk on the season Spring/Summer 2021. Many among popstars, dances and actors/actresses decide for iconic pieces, many taken directly for Italian brands such as Alicia Keys. The pianist/ soul singer decide for a total look (flare trousers, crop top and fancy cloak) in bubble pink by Valentino.
Just an anticipation of a summerish option ready to be fully explored during sunny season.
Additionally, some other celebrities opted for a "Pinky Pinky-Bang Bang" (cit. da Extravergine, Italian TV series). It is the case of Saweetie. The American rapper wore a Haute Couture in peach designed by GianBattista Valli, very Marie-Antoniette. The total look was enhanced by extra-long stiletto nails in hot pink and renaissance-inspirated stones.
As well, also P!nk opted for a long gown in hot pink, quite a classy choice if we think about the goth-punk style, typical of the American singer. The final look was completed by chandelier earrings and mohaka hairstyle. Apart from the hot pink, many celebrities also explored green as a valid option to match the energic spirit of the competition. From Da Baby in Gucci, Lena Waithe in Hugo Boss and Nick Jonas in Fendi, the billboard superstars used all green shades from mint, to apple green, to forest green.
Furthermore, some stars opted for the bling bling effect thanks to particular textures and jewelry embedded in their couture. The Indian and former miss/actress Priyanka Chopra wore a custom made gown by Dolce&Gabbana with a deep split and Bvlgari accessories, just to be unforgettable.
Another flaunting view was exposed by HER who wore a unique jumpsuit in paillettes by Dior.
The very intriguing piece, in the end, has been brought to the public attention thanks to the sculpted and athletic body of the actress Megan Fox. The star opted for a cut-out, fearless longuette black dress by Mugler: a cross body imaginative suit with a tulle, tight skirt. The final look was perfectly matching the manifestation midsummer night dream; even if after these two years of digital catwalks the warm season would probably call for live-ordinary runways as a blessing.
Fanny Trivigno
Sources:
https://fashionista.com/.amp/2021/05/best-billboard-music-awards-2021-red-carpet-fashion
www.vanityfair.it/amp/302787/fashion/red-carpet/2021/05/24/billboard-music-awards-2021-look-celeb-red-carpet-moda
www.harpersbazaar.com/celebrity/red-carpet-dresses/gmp36521415/2021-billboard-music-awards-best-looks/