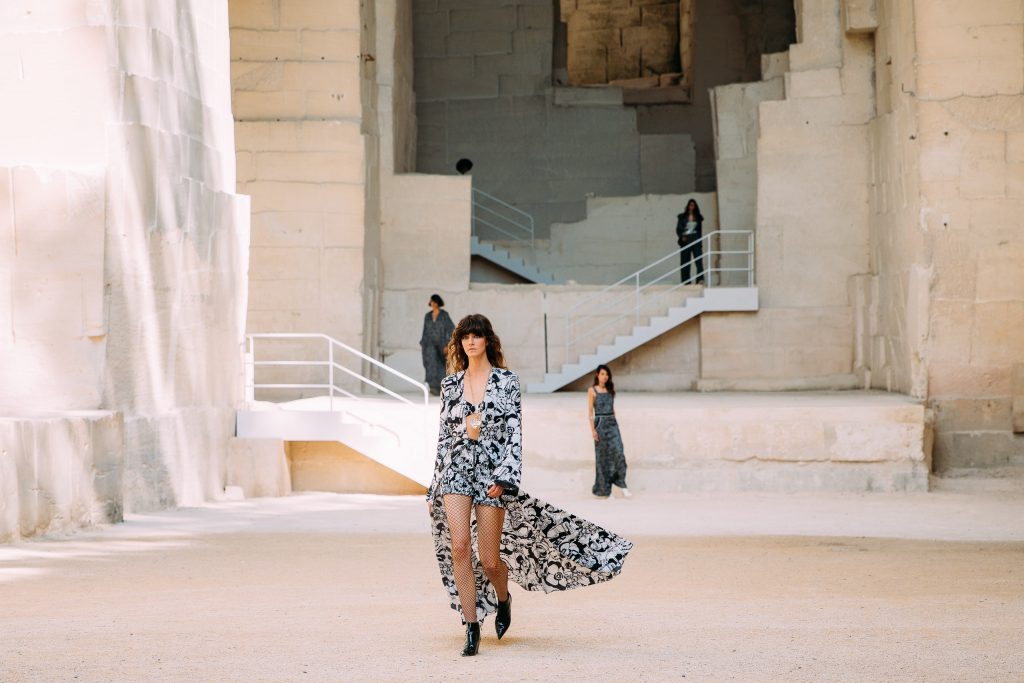 Chanel S/S 2021-2022: How to host a Caprese Sunset in Provence
Few days ago, the announcement that, for the season S/S 2022 in Paris, the catwalk could return to their ordinary state.
The physical catwalk, can we imagine it now?
The Federation de la Haute Couture et de la Mode confirmed the news less then 3 days ago. Starting from the Men Couture shows, the PFW will return in June. In sum according to the FHCM, in its last press release "the fashion houses will finally have the chance to introduce their new collections through physical catwalks. According to the sanitary emergency, the PFW will embrace a particular scheme in terms of presences and traffic limitations".
In order to continue, for this season, with the digital runaway exhibitions, Chanel cruise decided to host a presentation live streaming on its social channels and its own page, due the coronavirus pandemic.
The Chanel cruise 202-2022 collection was intended to be shown on Capri, at the beginning of its setting up. It is a place that Chanel's creative director Virginie Viard has not visited yet. As Viard explained that the idea was to create an illusion, a dream, a fantasy of a Caprese sunset in a studio together with the assistance of the photographer Karim Sadli and Viard's sometime-muse, the model Mica Argañaraz.
According to Vogue, Viard spent the lockdown in her country house in France and she defined it as "rest and family time," but no vacancy allowed anyway. In fact, these months carried the planning of the resort collection on one hand; on the second hand the French artistic director was also working on a capsule haute couture offering, which will be presented online as well. Viard returned to Paris and the Chanel studio on May 4, but the countryside atmosphere could not be left behind. The result was a pioneering idea of a "summer in Capri" the Tyrrhenian jewelry or the South of France.
Both chic and desired destinations, both implying a wardrobe of comfortable clothes, but also classy items: what a stylish girl would want to take on a cruise" Translated in conclusion proposed swimsuits to wear as bodies under cardigan jackets, wide-legged pants, or handkerchief-hemmed skirts, as no-nonsense iterations of the classic Chanel suit or saharienne jackets in cotton tweed. "There are no evening dresses, no heavy things," says directly Viard, who proposes instead someday-into-night converted options including suits printed with scattered trompe l'oeil and embedded costumes worn with skinny cardigan and wide pants in a fine-gauge knit. Not to forget the bandeau tops embroidered by Lesage that can be worn under suits or veiled under sheer chiffon blouses. Elegant little wisps of dresses in silver lamé, bordered in the signature house braid in the same fabric are as fashionable as it gets.
Fanny Trivigno
Sources:
https://www.vogue.com/fashion-shows/resort-2021/chanel
https://www.youtube.com/watch?v=ybcwFo3vO4s
https://it.fashionnetwork.com/news/Quest-estate-sfilate-fisiche-per-la-moda-parigina,1301039.html