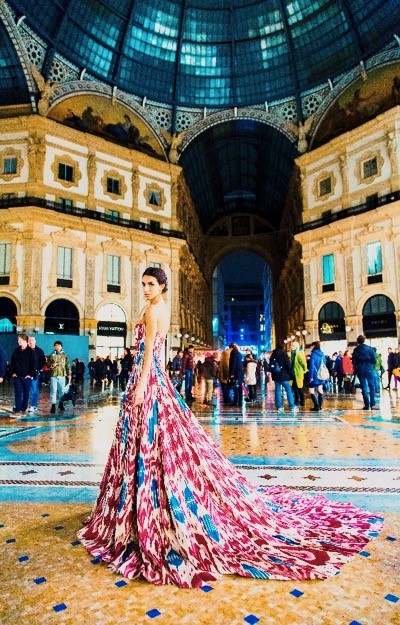 Italy and Uzbekistan between Fashion Development and Design Facilities
According to the Uzbekistan Government, the Asian country is currently working on a series of reforms and improvements in several sector including Culture, Art and Design.
In compliance with the President Shavkat Mirziyoyev, this new time of improvement may pass to history as a sort of third Renaissance: a moment of distinctive optimism and gratitude for the guidance of the finest arts in Uzbekistan.
But how to execute this application and how to see its prospective?
The new development strategy for Uzbekistan is aiming at reaching a series of collaborations and exchanges among Fashion, Academies, Educational Institutes and Associations all around the world.
These interesting opportunities are gladly supported by Art and Design Institute "Kamiliddin Beknzod", commonly referred to as NIFAD, the largest and most proficient Uzbek Institute for professional training in Art history, Fashion and Design.
Ranging from a secular tradition of Fashion and Design, from the kingdom of Amir Temur, well-known as Tamerlane in Western countries, to Temuride State Era, the cooperation between foreign institutes and the culture of textile and artifacts has been handed down from generation to generation.
Having the chance to attend classes at NIFAD today is an exclusive, and inclusive, step forward into the creative atmosphere of several countries including Japan, Malaysia, Germany, Italy, Turkey, South Korea, Russia and Netherlands.
Historical sources, such as for example the Spanish Ambassador Ruj Gonzalez de Clavijo, who lived the Temur's Era, wrote down in his personal journal "Samarkand Journey" about the beauty and meticulous attention of Uzbek artisans, recalling it in garments making and curtain inlays.
Lately, design came back to fashion audience attention reaching the highest popularity in Uzbekistan; this trigger has been a steady supporter for the developing of trade relationships and small/medium enterprises expansion.
The strong bond with international markets today can also be seen directly with the relationship between Made in Italy and Uzbek fashion production. Notably, some direct communications have been established between Nifad and Polimoda Academy in Florence: both educational institutes are currently working on a collaborative strategy to implement during next year.
As indication for this further bond, last summer a Memorandum of Understanding has been sign out by the European University of Design (UED) in Pescara and the Tashkent Institute of textile and Light Industry in Uzbekistan. Thanks to the Italian-Uzbek interconnection, new fashion designers have been encourage to become familiar with Made in Italy tradition and, in addition, to be disclosed to international public.
Starting from personal creations inspirated by traditional models, rich in design and cheerfully adorned in prints, the new Uzbek generation is aiming at catching a long lasting attention without being afraid of adding an original touch to natural fabrics, country-related themes and ancient threads.
Additionally the Uzbekistan textile and Garment Industry Association is also working in collaboration with the Milan Fashion Center and regularly taking part at Mad Mood Milan Catwalks.
Fanny Trivigno
Sources:
Gisella Peana Press Release "RELAZIONI TRA L'UZBEKISTAN E L'ITALIA NELLA MODA E NEL DESIGN"
L'Uzbekistan instaura importanti collaborazioni con l'Italia per la promozione e lo sviluppo della moda e del design uzbeko", September 2021