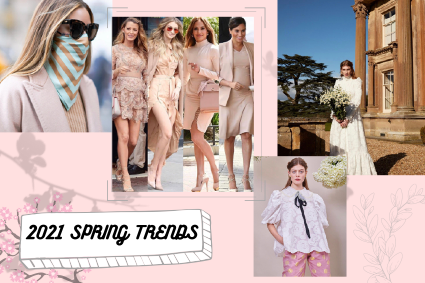 4 Spring Trends to keep an eye on in 2021
Which are the fashion style determinates to face the glam recovery?
Spring is sprung, even if the return to the scene has to be postponed for other months or so. But, honestly, should we need to be public to be glamourous?
As the doctors often say in time of allergies "I am going to prescribe you some antihistamine", the suggestion from LuxuryJuice is to follow meticulously the advices which could result in a preventive remedy against fashion fails.
And since fashion forgives but does not forget, here is four eye-catching, promising trends.
CAUTION! READ CAREFULLY before USAGE
These fashion trends are carrying great expectations; however, they could also result into a dazzling twist on, almost always, stay-in fashion.
A MASK IS FOR NOW, THE VINTAGE SCARF IS FOREVER
We all have worn masks during these months. Some of the most in-vogue fashion icons like Olivia Palermo are nailing it.
Their secrets?
The mask is a sanitarian must but why not to include a fashion touch to it by adding a vintage scarf to a boring FFP2 mask and make it outstanding.
The gold rule is always to match colors; according to the 2020 Pantone the most relevant combinations could be: Marsala and Rose Quarts, Cerulean Blue and Sand Dollar, Lint and Vetiver.
SNEAKERS NIGHTS
The moment of comfy clothing is lasting way too much; and fashion can't live in the comfort zone for long. But, starting from this January, a new attention has been brought to sneakers.
Thanks to the contribution of Maisy Biden who wore sneakers under an elegant dress for the New US President's Induction Ceremony.
This action seems to be part of a fashion revolution started firstly by Kamala Harris, who wore almost always flat shoes during her election campaign around America.
And even if Christian Louboutin will say "the higher the better. It's more about an attitude: high heels empower women in a way", these new icons are making a quite strong statement: "we got the attitude, the power and fashion rebellion".
NEUTRAL TONES ARE THE WARMEST COMBO
Let's start by saying that if you go for a neutral tone, probably you won't get it wrong.
Winter months introduced a look at snow white, pine green and flame scarlet, but now it's the perfect moment to put on the best of our camel oversize coats.
Together with few fashion accessories, the 90s vibe will be assured and also the looking-expensive perception.
FLORAL PATTERNS HAVE JANE AUSTEN'S BLESSING
The end of 2020 brough up the attention to a new Netflix tv-series called "Bridgerton".
Set in the middle of the 19th century, it is a short-drama with a similar Jane Austen's typical framework. Our attention, anyway, has all been on the stunning performance of the costume designer, Ellen Mirojnick. And if you believe that floral pattens are "Granny-material only", these new combinations will make you think about it twice.
From casual pale pink to lilac and radiant yellows, the season is blossoming.
Fanny Trivigno
Sources:
nine.com.au/article/9668a96d-ba29-45c2-96b2-d4441058c2ac;
www.bedazelive.com/your-guide-to-wearing-neutral-colors-this-spring/;
in.mashable.com/entertainment/19551/exclusive-bridgerton-costume-designer-ellen-mirojnick-on-fashion-and-aspiration-in-the-netflix-show%3famp=1.