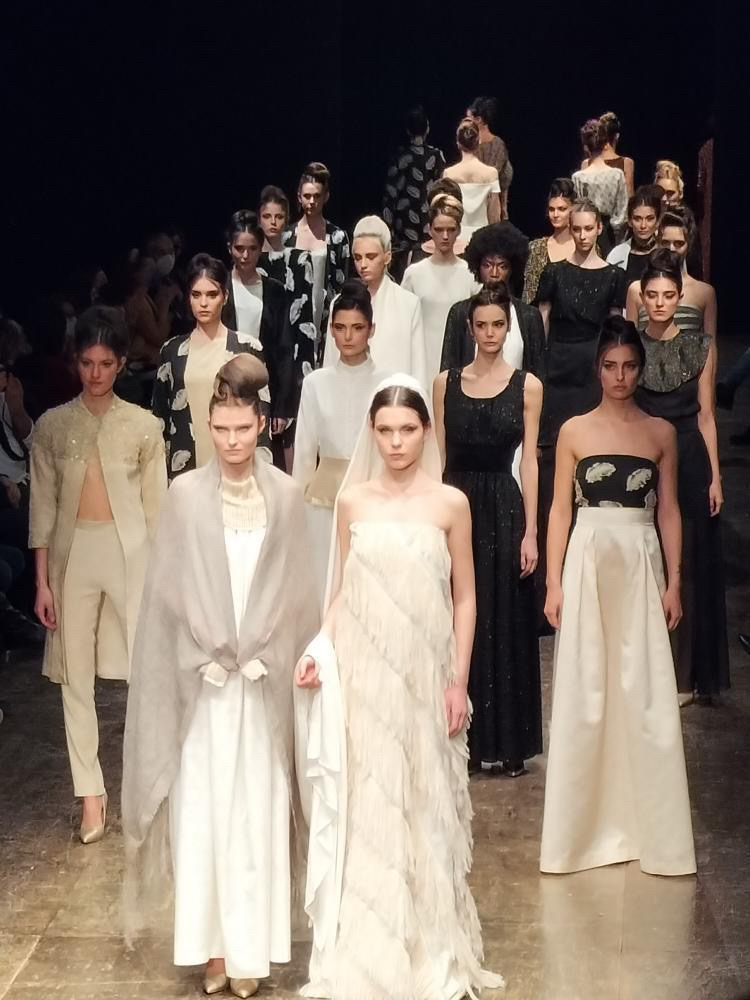 Mansion Celestino presents "Isis's Veil" S/S 2022 Collection
Maison Celestino presented its Spring/ Summer Collection at India Theater in Rome last Thursday.
Once again fashion season hits Rome with its revolutionary touch.
Fresh and eclectic, the S/S 2022 seems a symbolic disclosure among ethnic past-related references, luxurious interpretation and contemporary restyle.
According to these associational pillars, Maison Celestino, the Calabrian rooted Brand, develops its new collection.
The inspiration is a lost echo adapted through the figure of Egyptian goddess Isis.
The representation of Isis, also called Aset or Eset, is the most relevant female icon of Egypt; according to Greek etymology her name is an edlery expression for "throne". Being herself a mysterious deity during 1279-1213 BCE in Egypt, Isis is, paradoxically, largely represented in Art and History.
For example, as it is depicted in a wall painting found in old Thebes, Isis represents the guide of Queen Nefertari; later on, the goddess grew prominence and magnitude as the dynastic age moved forward.
Additionally, her worship moved across the Roman Empire from Old England to Afghanistan.
Maison Celestino took its inspiration directly from Giza's Pyramids inscription, rephrasing, "(..) let your veil garnish you for a moment instead of letting it conceal you".
A tribute to a mysterious female representation through the centuries is the main theme of S/S 2022 collection discovered at theater India in Rome, lastThursday.
The Italian Maison, according to Isis character, is able to visualize and consequently promote her best attributes among beauty, will, protection and leadership.
As a tribute to the current harsh situation in Ukraine, Inna, model originally from this beautiful country, opened the show with a long simple dress, themed ivory with a fringe cape coat in co-ord.
Twenty-five units collection introduced to us Celestino's woman for the coming summer season, never neglecting the maison Made in Italy themes. The collection exposed long skirts with Oriental inspiration in details, golden embedded blouses, caftans, lightweight tunics and crafts made evening dresses; additionally new embroideries in "Fil coupé" completed scenographic looks for evening everlasting occasions.
Chromatically speaking, nude tones uncovered together with Mediterranean Earth-related nuances; always bear in mind white and gold mergers.
Sources:
Press Release- Pre-event " Maison Celestino S/S 2022 -Isis's Veil-MARIA CHRISTINA RIGANO, Fashion Event Manager & International Press Office;
Photo credits: Maison Celestino's FB Official Page- S/S Pablo 2022, Naples Bourbon Gallery
Press Release- Post Event "Maison Celestino S/S 2022 -Isis's Veil-MARIA CHRISTINA RIGANO, Fashion Event Manager & International Press Office.