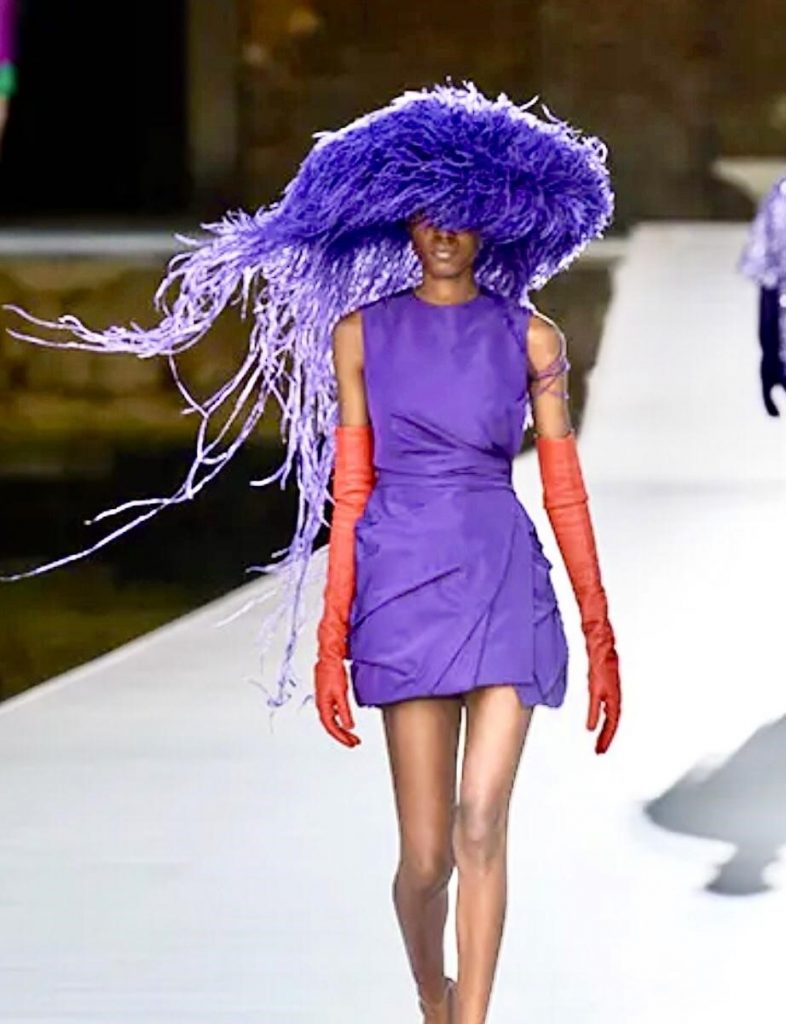 Very Peri, Very Glam
After the groundbreaking time of Covid-19, a new color seems to be the breaking of the day. The new Pantone is "Very Peri", an unexpected color symbol of transformation since it gathers together glazes of blue- symbol of wisdom- and red- symbol of passion.
The Pantone 17-3938 is an exciting alternative to early 2021, such as gray- from misty to slate- and yellow vibes.
Even though Very Peri has only been recently promoted as "color of 2022", it has been already present on the fashion scene; ranging from glamorous catwalks and Hollywoodian Premiere(s).
Let's think about the astonishing couture recently worn by Lady Gaga and created by Alessandro Michele, artistic director of Gucci, for the British Premiere of "House of Gucci".
According to Virginie Viard, artistic director of Chanel, this year the iconic tweed suits of the maison should carry a "sweetie" vibe thanks to the affiliation of lilac finishing touches to Very Peri; also in association with hearted-mini crossbody clutches: a way to embed an elegant effect to the "mademoiselle" look.
As for Pierpaolo Piccioli, artistic director of Valentino, Very Peri is in pair of two elements: asymmetrical cuts and strong chromative contrasts. For Valentino Fall/Winter the Italian maison created a movement thanks to minimal cape coats, feather big hats and long leather gloves in contrast.
As for AZ factory, in order to celebrate Alber Elbaz- late artistic director or Lanvin, then AZ factory itself- it created, around the lavender shade, a flow of femminine silhouettes in voluminous- straight neckline evening dresses, easy for Summer/Spring 2022 but still prominent.
As for Yves Saint Laurent, the Belgian designer and artistic director of the brand, Anthony Vaccarello, put together metallic, warm and cold shades of Very Peri. The result is a multilayered approach obtained thanks to chunky long necklaces, glittery tights, pointed-toe high heels, checked boyfriend cardigans and satin shorts.
According to Givenchy, on the order hand, color palette is a only a soft version of Very Peri: the tones of the catwalks are candy-like, pastels even for the heaviest combo bomber-hoodie.
In order to mention also Very Peri exhibition of related themed accessories, Bottega Veneta proposed a woven bag in candy lavender with chucky crossbody chain in silver; additionally beauty sector- in particular Fenty beauty by LVMH and Gucci make-up by Kering- elaborated some wearable option in order to pair clothing and accessories with glam on lips too: it's the case of Fenty's Cream Blush in "Drama Cla$" and Gucci's rouge a lèvres in "Jenny Purple".
Fanny Trivigno
Sources:
https://www.crfashionbook.com/fashion/a38477403/heres-how-to-wear-pantones-color-of-2022/