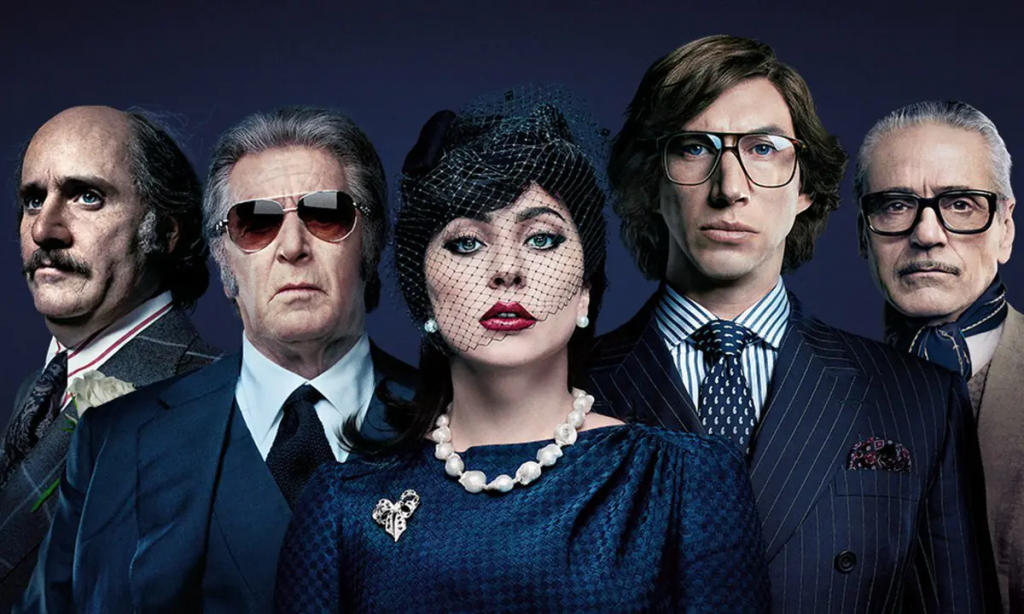 Courtesy of Hola.com/us, House of Gucci, Promotional poster Nov.2021
Starting from the first months on 2021, Rome has been particularly happy to celebrate the return of a historical representation around its streets.
In fact, "House of Gucci" has already been labeled, from its first sneak peek, film of the year.
But first things first.
According to the official trailer release at the beginning of Spring, fashion awareness has been gladly cheered by exquisite, lavish looks adopted by Lady Gaga who is playing Patrizia Reggiani, Maurizio Gucci's ex-wife. Together with Gaga's interpretation, the cast in the movie trailer is already hitting the jackpot in terms of talent and manners: from Adam Driver playing Maurizio Gucci to Salma Hayek, Jared Leto and Al Pacino.
According to these marvelous artists , Janty Yates, costume designer, is covering almost thirty years of fashion history from the 1970s to 1995.
Based on the prospective of Patrizia Reggiani, "House of Gucci" is an delicious walk-in between Gucci iconic archives and Made in Italy entrepreneurial records; from the beginning of the relationship with Maurizio Gucci, and even deeper into Patrizia's life before him (the childhood in Northern Italy and her mother's wedding to a rich businessman), the pelicula settles its establishment.
The dramatic epilogue of the representation is sadly known worldwide and it is disentangled by Patrizia's intention of hiring a triggerman in order to end her ex-lover's life.
All in the name of "Gucci".
But, in order to wait for its official opening on Nov.24, the Ridley's Scott pelicula disclosed already some interesting fashion sample, all worn off by Lady Gaga.
As she defined herself "Patrizia's life preview is a perfect representation of the true Italian fashionista lifestyle, life of a glamourous girl; where luxury, surfeit and dazzled allurement is extremely necessary."
From ski googles, fur hats, glitter dresses and strapless lace dresses, Patrizia wardrobe is an evolution of a character from her chic reflection to proper, tasteful self-confidence.
From the film trailer it is possible to imagine a glamours life full of adventure and wintery holidays, so despite the fur we are going to obviously see for some Gaga's outfits by night, she also spots fur hats and sporty googles. The accessories, is unexpectantly not Gucci's by Dior's and it is accompanied by a full burgundy ski suit while the actress sentences "I don't consider myself to be particularly ethical person but I am fair".
From the early 80s, Patrizia and Maurizio lived in Manhattan among city lights, special events at Studio 24 and business dinners, it is natural to suppose that Gaga's closet will be covered in shimmering sequins, paillettes and big, extravagant 80s-related jewelry; as she crossed her heart in one of the last trailer sequences "Father, son and house of Gucci"- a quote that is already going to be outstanding- is it also easy to detect a typical 80s-90s vibe according to hot pink polka dots displayed on the actress black puffed dress.
Furthermore, according with some promotional photos, the Oscar-winner actress is also going to wear some pieces with the representative fashion logo, together with some leather inserts and the typical accessories derived from the equestrian environment.
Some are already identifying the movie as the next- or an up-to-date version- of "the Godfather" due to the high concentration of family drama, treachery and scandal; some others are more willing to accept the motion picture as a pledge to one of the most famous Italian family worldwide even if it is not feasible to avoid completely the discussion upon "What is the real price of fame?".
Fanny Trivigno
Sources:
https://variety.com/gallery/house-of-gucci-lady-gaga-fashion-looks/gucci-white-lace/
https://variety.com/2021/film/news/house-of-gucci-reactions-lady-gaga-adam-driver-1235108207/
https://www.hola.com/us/entertainment/20211111306433/house-of-gucci-must-watch-for-fans-of-fashion-and-drama/