MET me in NY: 2022 Met Gala
Last Monday, Met Gala had its last edition according to the, not-so-unusual, last two years global pandemic developments. As the well-known Museum hosted its philanthropic fashion parade during the first Monday of May, this 2022 edition seems to establish a trend that was set forth last year: an Anthology of American Fashion History well-balanced between inclusivity and a gilded rising generation.
Several outfits captured the audiences- online and offline attention- and even if the most unspoken talent of the fashion event is to be spoken ill after its symbolic representation, this year must be reasonably labeled as the season of vintage iconic dresses, theatral fringed ornaments and NY City architecture ovation.
Here, our five best representative paradigms of 2022: from the most worn Made-In-Italy brand, Versace (Blake Lively, Chiara Ferragni, Gigi Hadid and Lily James) to French Classic Vintage from Jean Louis to Nicolas Ghesquière (LVMH).
BLAKE LIVELY: Serena's Empire is Back!
As we already could see from her last public appearances, Blake Lively is vividly taking back her fashionista character from Gossip Girl, Serena Van Der Woodsen. According to this indispensable vibe, the American actress wore a lavish haute couture Versace; once arrived the gown wrapped the star in a precious rose golden embrace but, on the steps of Met hall, the dress conclusively revealed itself in a minty luxurious blend.
As she mentioned herself, the now everlasting dress was inspired by NY City's architecture and a pledge to the Statue of Liberty lighted up during dawns and twilights.
KIM KARDASHIAN: 4 Million customized Dream
The "Keeping up with Kardashians" icon Kim, for the 2022 edition of Met Gala gifted herself with the iconic dress originally worn by Marilyn Monroe in 1962 when singing "Happy Birthday Mr.President" to John F. Kennedy. The gown was created by Marilyn Monroe's trusted designer Jean Louis and, according to the Kardashian's specific statements, the 4 million fairytale took her about 7kg of slimming up before the actual evening out. Additionally, in order to fully "feel" the dress energy, the celebrity ditched her brunette locks for an ashy platinum blonde.
JESSICA CHASTAIN: a sequin Drama!
In accordance with the celebrative atmosphere, the Golden age of Hollywood had its own variation thanks to Alessandro Michele's vision of Italian brand Gucci. The red-headed actress Jessica Chastain wore a Glamorous burgundy dress, all created by weaving together crimson sequin pieces; the Drama was assured by the matching headpieces elaborated in compliance with the same garments and techniques used for the gown, all spell bounded by an almost circus related aura.
GIGI HADID: Just a Matter of Volumes
Another striking adventure has been portrayed by the American Model Gigi Hadid during this Met Gala edition 2022. The model, in fact, wore an extravagant scarlet outfit all Versace. Starting from the top, a boned, skinny latex corset was worn in coordination with knee-high leather boots and a pearl necklace. The distinctive moment, when the fashion model and designer left her apartment in NY City was not fully revealed: once on Met steps the 27-years old model finished the look with a dazzled sartorial moment thanks to an extra large puffed coat in satin: very Elizabethan.
JARED LETO: the man NOT in black
According to last week's echos, Jared Leto has doubled during the last Met Gala. In fact, the Oscar winner actor, for this particular edition, has been mistake for his "doppelganger", the editor in chief of Boy magazine Fredrik Robertsson wearing a magnificent haute couture by Iris Van Harper created only for this special occasion: an elaborated, spikelet futuristic implementation.
As for the "real" Jared Leto, the American actor wore a Gucci custom suit as ambassador of the brand. His entrance was escorted by his designer and friend Alessandro Michele (Creative Director of Gucci Maison), the two looked like almost twins wearing the same outfit, matching with the same accessories- from pochettes to sunglasses to hairstyles and almost performing the same moves on the red carpet: a new Shining (Kubrick, 1980) fashion Era?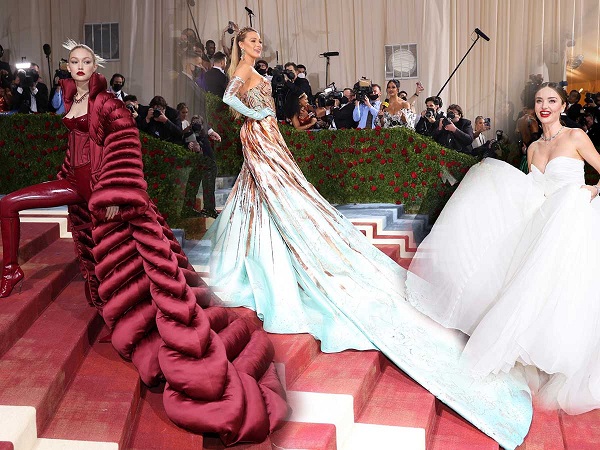 Fanny Trivigno
Sources:
https://www.esquire.com/style/mens-fashion/a39883217/jared-leto-lookalike-met-gala-2022/;
https://www.vogue.co.uk/fashion/article/gigi-hadid-met-gala-2022/amp;
https://www.harpersbazaar.com/uk/fashion/g39887382/met-gala-2022-best-dressed/;
https://www.teenvogue.com/gallery/best-dressed-met-gala-2022/amp;
https://www.nytimes.com/2022/05/03/style/met-gala-fashion-best-and-worst.html;