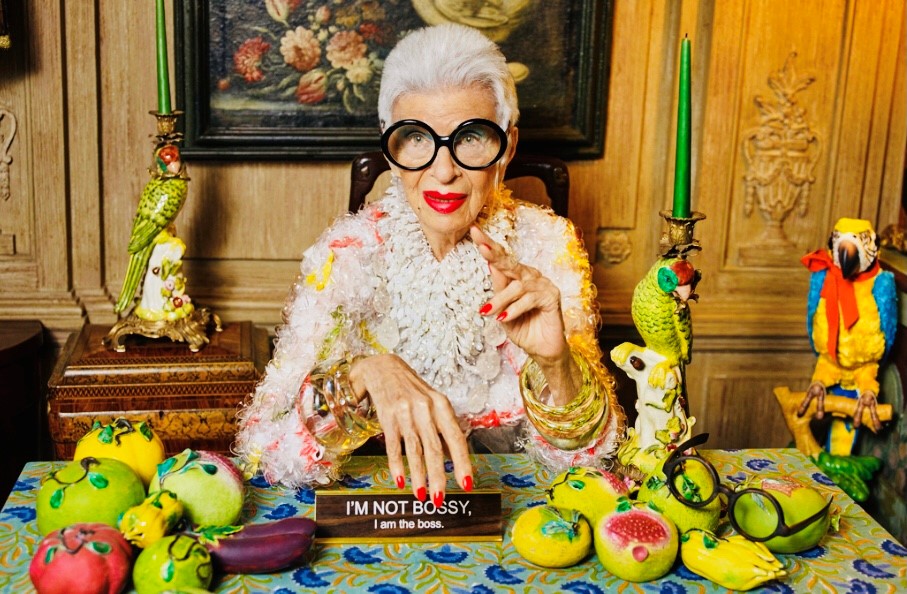 Iris Apfel: 100 Golden candles to celebrate the flashiest lady in NY
If we think about NY, we can't really imagine anything more matching than energic, busy roads and engaging city lights.
A boisterous, clamorous valzer of styles all equally remarkable in their peculiarities.
Around 1921, the NY boogie was successful joint by Ms. Iris Apfel, a striking lady who's been around for several decades of fashion and still, does not wish to stop her dashing performances in terms of design, attire and discovery.
The fist number of LuxuryJuice for September, the most dense appointment for fashion for results and developments, is warmheartedly dedicated to her.
Brave at bone, stylish at heart.
The maximalism first supported just blown out 100 candles during a proper celebrative gathering few days ago, August 29th.
Designer, model, entrepreneur, and fashion authority, Iris Apfel was born in Astoria, New York from a Jewish family; the father Mr. Samuel Barrel was in antiques trade while her mother, Sadye, was a boutique owner.
Since the really beginner of her carrier, Iris always refused the New Yorker classy lady label in order to search for her own definition of female independence. As she reminds often, her popularity was not achieved immediately or intentionally; her massive goal in life is always been the blossoming of her "natural" personality.
Running or resting, her luxury extravagance is an hymn to confidence and creativity; a sort of watershed from the stativity of an arranged prospective leading the way for a more qualitative self-consideration.
Passing through the NY University and the Art academy of Wisconsin, Iris starts to collaborate with a female magazine "Women's Wear Daily" and in 1948 marries Carl Apfel.
Together with her partner, she sets up in 1950 the textile business "Old Wild Weavers" and remained active in the business itself until early 90s.
By the end of the last century, she already takes other engagements: it's the moment in which Iris starts her model career reaching an exclusive collaboration with IMG, one of the most competitive model agencies in the world.
At the same time, she starts developing her interior designer skills by introducing her impeccable taste at the White House, caring for the interns during several presidencies including Truman, Eisenhower, Kennedy Regan and Clinton.
Passionate about any form of design of massively unconventional, she keeps making the world open its eyes widely every time she's on spot: moving from one fashion collaboration to another during 2000s, in 2005 she was awarded by the Costume Institute with a personal exposition called "Rara Avis: The Irriverent Iris Apfel" and, about 10 years later, she was acclaimed again thanks to the director Albert Maysles who created a documentary on her extraordinary life, simply called "Iris".
As she likes to remember, especially during her last interviews, Iris loves to consider herself a seasoned teenager and categorically refuses to be called a lady, with all the consequences this statement could potentially call out for.
"More is More, Less is Bore" has been her exceptional aphorism through the years, but she always finds a way to make it look brand new.
Like her iconic eyeglasses frames.
Fanny Trivigno
Sources:
https://www.vanityfair.it/fashion/news-fashion/2021/08/29/iris-apfel-100-anni-compleanno
https://biografieonline.it/biografia-iris-apfel